Frequently asked questions
Context
In order to comply with Know Your Customer best practices, we require ID when a certain level of trades have been processed. Additionally, your spending limits are increased significantly when ID is validated because the account becomes more trusted.
For the validation to be completed we need as a minimum one proof of name AND one proof of address document from the list below. Until both are uploaded the documents will be listed as Pending since they are processed together, and just uploading one will not increase your limits.
For technical information on how we store your identity documents.
Proof of name
Acceptable:
All ID must have not expired at the time of upload and they must not be black and white scans. If using a scanner please turn off any OCR functionality as this interferes with our ability to validate the ID. This is required even if your account is for a company's use. Please do not merge the front and back of any ID cards onto the same page, upload them as separate photos or scans.
Passport (full photo page).
Full driving licence (photocard, front and back).
Provisional driving licence (photocard, front and back). You must still be over 18 to use most card payment providers.
National ID card (photocard, front and back).

This is the only accepted proof of name for nationals of Thailand.

PASS card(with photograph and date of birth)
Not acceptable
Student/NUS card
Locally issued cards, e.g. local authority bus pass with photo
Handwritten documents
Notices
Residential permits are not usually sufficient, and are always rejected for people born outside of the EEA (e.g. Russia) and living in Europe.
Proof of address:
Note: Online / downloadable documents are usually just fine. See below.
Acceptable
All proofs of address must have an issue date within the last 3 months. These can be digital versions in pdf format, i.e. downloaded from your account with the appropriate provider, but screenshots cannot be accepted nor can any edited documents, photos of printouts of the pdf etc. We need the originals.
In all cases we need the entire document. For paper documents this means the entire page rather than just the part with your address on. For PDFs this needs to be the entire original version of the PDF with all subsequent pages.
We can't accept documents which have been 'printed' to another PDF, we'd need the original documents. In the cases of banks such as TSB where the bank does not produce a direct pdf version of a statement sadly we cannot accept printed to pdf versions of statements from these banks. Halifax and Lloyds user can now download PDF versions of statements via online banking, however we can't accept the older style printer friendly printouts.
If you are validating an account for company use, please ensure this is a bill addressed to the company, and ensure your company's name is filled in on the profile page.
The following documents are usually acceptable for all payment methods, including card payments.
Fixed phone line bill.
Council tax bill (only accepted for 3 months after the issue date)
TV licence (only accepted for 3 months after the issue date, so if the expiry date is February 2019, it would have been issued in February 2018 so is only valid until May 2018)
TV provider bill (e.g. Sky, BT).
Internet services bill (e.g. broadband).
Utility bill (e.g. gas, electricity, water).
Mortgage statement.
Mobile phone bill (must match the verified phone number on the account).
Bank statement (posted statement or online original PDF; print outs and transactions lists not permitted).
Accommodation rental bill, including

Rent statements from your landlord.
Rent statements from student accommodation.
Semi-acceptable
These documents are only accepted for bank transfers (and equivalents).
Not acceptable
Any ID you have used as the Proof of name.
Driving licence.
Screenshots of web pages, e.g. screenshots of online banking transactions. If you are uploading an online bill we need the original pdf file, not a screenshot of the first page, photograph of the screen or split PDF just showing some pages.
Anything in the "Other" category on the upload page unless we have specifically said it is ok for your account. This category cannot allow access to card purchases
If you have no bills in your name
If you live with parents or a partner and all bills are in their name, please attach the following in one document (e.g. by printing out and taking a picture):
A brief letter from your parent/partner stating that you live with them, signed by the parent/partner.
The parent/partner's proof of ID as per the Proof of name section.
The parent/partner's proof of address, i.e. a suitable, recent bill in their name.
Proof of bank account
This should be a statement, and also issued within the last three months.
We a bank statement which should show your account number, sort code (or BIC/SWIFT and IBAN), your name, address and overall account information like balances. For a paper statement we would need a scan or a photo of the first page of the statement, or an online copy of your statement downloaded from your online banking site. If you send us an online downloaded PDF, it must be totally unaltered. This means you must include the entire file and you cannot send just certain pages, for instance. We also cannot accept screenshots of your online banking pages.
Why so strict?
We have arrangements with payment providers that have strict requirements. These are the requirements that they are legally bound to.
I do not have suitable documents
Please get in touch with us at support@bitty-licious.com and let us know what you have. In any case, some form of governmental issued photo ID is a must.
I do not care about credit card payments
If you are not intending on using Bittylicious to make purchases with a credit/debit card, we can be more lenient with the types of ID we accept (contact us first though as otherwise the documents may well just be rejected). Bittylicious ID validation differs from the above when it comes to proof of address validation in the following ways:
If you have made a bank transfer with us first, documentation is valid if it is less than six (as opposed to three) months old.
Name Changes
If you've changed your name either through marriage or by deed poll then we will need to see a copy of the certificate or document. This needs to be emailed to support@bitty-licious.com when you submit the name change request through your profile. For deed poll name changes, we can only accept changes which have been officially enrolled on The Gazette.
As a buyer, you get exactly what you see on your trade page. No additional fees are taken so you get the full BTC amount shown on the page. This does not necessarily match what you wallet considers to be the "BTC price", nor the price of any other markets.
Bittylicious makes money by charging sellers on the system a small fee to use the Bittylicious platform, so only sellers get charged a fee.
For further reading, please see Why do Bitcoins on Bittylicious cost so much? and remember that Bittylicious is a marketplace where brokers compete to offer the best prices. Compare us to other markets if you want a real comparison, and also bear in mind that we include withdrawal fees in each transaction whereas almost every other site else doesn't. In particular, please check out the section marked Small Trades which explains that small trades have a higher comparative cost because of large network fees, and these are outside Bittylicious's control.
Bittylicious may complain with an error stating, This is not a Bitcoin address or This is not an Ether address, yet you are entering your address from blockchain.info.
This usually happens when you are actually using the blockchain.info identifier rather than your Bitcoin wallet address.
Blockchain.info identifiers are of the format xxxxxxxx-xxxx-xxxx-xxxxxxxxxxxx and are used to log in to the blockchain.info site. Bitcoin wallet addresses never contain any hyphens and start with a 1 or a 3 and Ethereum wallet addresses begin with an 0x.
How to get your actual wallet address
To get your wallet address you need to log in to the blockchain.info site itself and click the Request button at the top.

This will open up a new window showing your actual wallet address which you can copy to paste to use with us.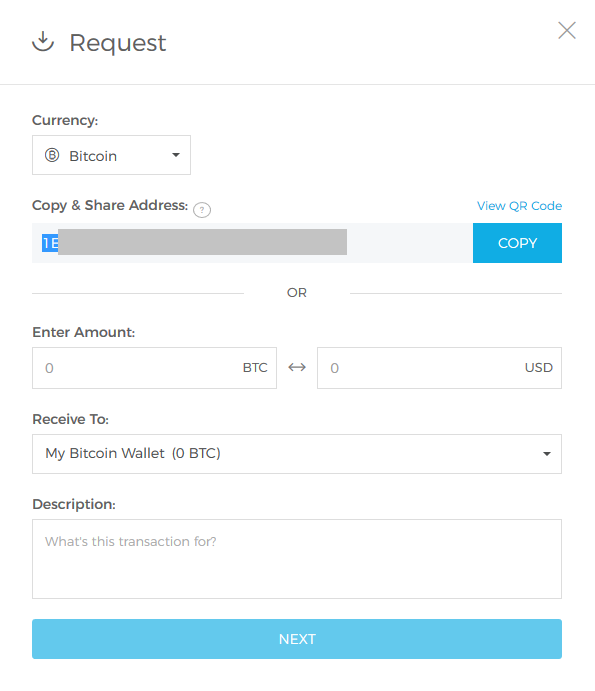 Bittylicious requires users to upload personal information (e.g. passport images) when trading above a certain level.
Technical Information
Your data is protected during transfer because Bittylicious uses SSL via https for all user pages and we have a valid certificate recognised by almost all web browsers.
As soon as your data is uploaded, it is immediately encrypted using GPG. A 2048 bit public key is stored on the Bittylicious web server and this key is used to encrypt the data.
When we check your documents, we download the encrypted data onto a local office-based computer. The corresponding private key is stored on this machine only and this is used to decrypt your documents. After being checked, this version of the document is deleted.
The encrypted version of your documents are not deleted unless you delete your account, in which case see the

data protection statement

. This is so that we have your details on file should any dispute arise after payment.
Should the Bittylicious web server become compromised, only the encrypted version of your data will be available. This cannot be decrypted without the correct private key, which is not stored on the web server at any time.
For most online banks, it is obvious how to do this. If your online banking says that the reference cannot be changed, just create a new payee with the reference details.
Some banks are a little confusing though.
Co-Operative
Make sure you choose to do a Bill payment, not and Funds transfer.
You have to be at least 16 years old in order to use Bittylicious.
Some of our card processors won't let you use their services until you turn 18 years of age.
Bittylicious doesn't directly control the price or availability of coins on the site, those are set by the brokers directly. The brokers are able to set their own lower limits on the number of coins they are willing to buy or sell and there are times when the lower trading limits are comparatively high. This is especially the case overnight when fewer brokers are online.
Some brokers are willing to trade smaller amounts to validated users only, so to get access to the widest range of brokers you can go through the ID validation service by uploading documents to your profile on the main site at your account. Otherwise it is a case often of waiting for more brokers to come online with different ranges available for their offers.
Selling coins is particularly susceptible to this due to the overheads involved for the sellers in making bank transfers for small payments.
Sometimes banks delay payments. This can be a problem for sellers on the site as Bitcoin and other virtual currency prices are so volatile.
Any transaction that takes over two hours to receive is taken on a case-by-case basis. The general rules are:
Delays were the fault of the seller: the trade will go ahead.
Delays were the fault of the buyer or the bank: the decision is left up to the seller. Sellers try to be reasonable, e.g. if they are manually verifying trades they might not confirm trades that have gone up or down in value a large amount.
In most cases though, sellers will put through transactions anyway, especially if payment is received within 24 hours. However, sellers do reserve the right to offer a fiat refund instead.
Please note that not every seller on the Bittylicious platform is available 24/7. This means that if your payment is delayed by your bank and arrives later, you will have to wait until the seller comes back online. Sellers almost always check in at least once per day.
Do note that you will always either receive your virtual currency or your money back. You will never be out of pocket.